Shape your future and build a business where you support your local community as a care champion.
Why franchise with Radfield Home Care?
Home care is a people-centred sector, where every day you are directly helping people to lead fulfilling lives and age well in your surrounding community. For those that wish to build something for themselves while also providing vital services for local communities, it is an extremely appealing sector in which to operate.
At Radfield Home Care we recognise the importance of the connections between our team, clients, and network franchise partners. Nurturing these relationships helps us to be a distinct leader in the provision of exceptional home care. We have distilled this ethos into a simple internal message, Be There.
Be There and our Caring for Our CarersTM Pledge
At all levels, people and the connections between them are at the heart of home care and when we think of these connections, we think "Be There". For our franchise partners, this means:
The goal is to create a supportive and nurturing environment where you may thrive as a business owner. We apply a similar approach to our Care Professionals as they are by far the most important people within the business. This is clarified in our Care Caring for Our CarersTM Pledge. The Pledge outlines our commitment to investing in quality training, providing appropriate pay to cover the time taken to travel between appointments, empowering the team, and working closely alongside them to help them deliver exceptionally high standards.
The benefits of being a Radfield Home Care franchise partner
When you become a Radfield Home Care franchise partner, you become part of a national family of local care champions. It's a life-changing opportunity and experience.
Recession resistant, rising demand:
Radfield Home Care continued to grow throughout the 2008 recession and has seen further growth during the Covid-19 pandemic. The client audience is also growing rapidly, between 2009 & 2019, the percentage of over 65s in the UK increased by 23% (UK Gov).
A family-run business, an ethical approach:
Our National Office team is a closely-knit group of skilled professionals with a personable approach. This extends from our National Office to each of our franchise partners and out to our Care Professionals. Our Caring for our CarersTM pledge means you become an advocate for a supportive work environment and strive for the highest quality of care delivery.
Leadership with real experience: Having grown up within a residential care home, worked as a GP, operated local home care offices, and cared for their own parents and grandparents, it's fair to say that Radfield's franchisors have been there, done it and got the t-shirt.
Forward-thinking and adaptive: While Radfield is built on the experience of many years, it's also shaping the future of home care. The business was an early adopter of digital care planning software, and right now the team is driving developments in new technology for remote care services.
Skilled & agile National Office support team:
The National Office team is a cooperative and adaptive group of skilled individuals with backgrounds in care compliance, recruitment, client acquisition, business development, finance, marketing, video editing, and graphic design. The wealth of knowledge is immediately available to all our franchise partners, giving them the tools to succeed.
Who are Radfield Home Care?
Radfield Home Care is a business built on a very clear sense of purpose. That purpose is the same today as it was more than 40 years ago when franchisors Alex Green and Dr Hannah MacKechnie's parents first set up the Radfield business as a residential care home.
Under the vision, passion and leadership of brother and sister Alex and Hannah, Radfield Home Care is now a multi-award winning business, providing exceptional care and support to clients and their families every day.
What has always remained a constant is a simple and powerful purpose…
'To make ageing a more enjoyable and rewarding experience for all involved.'
This is what inspires, drives and guides everything the business and its franchise partners do.
As Hannah explains: "Care is amazing. Great quality care can transform a moment, a day, even a relationship. Care should be about making people feel understood, valued and supported. About enabling people to live their best life for as long as possible. That's what exceptional care means to us. It's what we grew up with, how our parents inspired us and now we're proud to be working with outstanding franchise partners to take the Radfield standard of care out to the nation."
How does the Radfield Home Care franchise model work?
Radfield Home Care is a business built on relationships. The first step is to make sure it's a good match between you and the business. Does Radfield feel right for you? Do you feel right for Radfield?
You don't need any prior care experience. Radfield's dedicated franchise support team is on hand to help you recruit a registered care manager. They'll take on responsibility for daily operations like care management, compliance and staff.
You need to have a passion to become a local care champion. You will get out there, network and meet people. Let them know about Radfield, make sure that when they need care they want to choose the Radfield Home Care brand.
Here's how Alex sums it up: "We love bringing new franchise partners on board because it's like adding another member to our family. Hannah and I have run local offices ourselves, so we know what it's like and we know what it takes. If you're approachable, enjoy meeting new people, a good listener and also willing to put yourself forward then we'd be very keen to hear from you."

What support and training do Radfield Home Care franchise partners receive?
To get you started all new franchise partners get access to an industry-leading training programme. You'll cover everything from compliance, CQC and care delivery through to business development, technology financials and marketing.
Training doesn't stop there. In fact, it doesn't stop. Radfield franchise partners get exclusive access to training opportunities that range from monthly webinars to external training days from the likes of Google and Indeed.
As you progress, you'll always have a dedicated franchise support manager. They'll work closely with you to help you develop and grow your business. The wider support team is also backing your success all the way. Specialists in all operational areas, they're working constantly on everything from search engine optimisation and monitoring of compliance records.
How much does it cost to start a Radfield Home Care franchise?
Once you've been accepted in principle into the family as a new franchise partner, you'll need to be in a financial position to make the right level of investment. You can think of this in two parts.
Firstly you'll need your franchise fee. This is £35,000+VAT. Next, you'll need working capital to get the business up and running. This is typically £62,000. In total, around £104,000.
Thanks to Radfield Home Care's well-established business model, a number of high street banks lend up to 70% of this total investment. This means you will need at least £31,500 of your own capital to get started.
How can I get started setting up my own business?
Easy. Just fill in the enquiry form on this page and Jason Foster, Radfield Home Care's franchise recruitment manager will get in touch for an initial chat, answer any questions you've got and talk about the next steps.
What our franchise partners say
"The National Office team can help with even little things that you don't necessarily think about. The support fills in all of those gaps."
– Ed Gill, franchise partner, owner & director, Radfield Home Care York, Thirsk & Ryedale.
"We're genuinely delivering a good service to clients in our local community… it's exceptional quality and I'm proud of that. It's making a massive difference to the lives of local people, while also securing the financial future of our own family." – Jackie Gillen, co-owner & director, Radfield Home Care Wakefield & Dewsbury.
 "You engage with people when you're part of a franchise, it's not just about the numbers and statistics, it's about the people that you work with, the people you engage with and I think all of the people in Radfield who I spoke to were genuinely nice people who live the values and demonstrated the culture I was buying in to."
– James Beech, co-owner & director, Radfield Home Care Stamford, Peterborough & Rutland.
Radfield Home Care Havering & Brentwood - Case Study
Be There - Radfield Home Care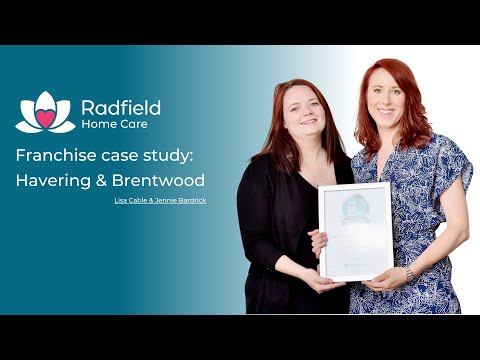 Radfield Home Care Havering & Brentwood - Case Study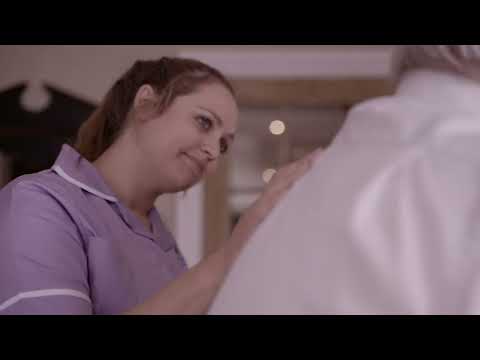 Be There - Radfield Home Care
The support we received from Radfield right from the very beginning has been fantastic. We have had day-to-day support and guidance from everybody at National Office and you've always got somebody you can go to.
Many home care franchises provide care to a wide range of age groups, but I could really relate to Radfield's focus on older people. I've been operating my Radfield Home Care franchise since the beginning of 2018 and I have been extremely pleased with the support provided. Thanks to a fantastic pre-launch period, I got off to a strong start. With the support of the National Office, I have been able to maintain this and I am consistently ahead of my projections.
With a background as a community occupational therapist, I could see there was a gap in the market for a premium home care service in the Harrogate area and I knew that with my experience and contacts I would be ideally placed to set this up. However, Radfield Home Care is the only franchise company that really took an interest in me as a person and my career background.
Exhibitor Blogs & Seminars