Starting a removals business is the way many people in the UK who want to become their own boss choose to do it.
Setting up a removals business is relatively easy – at least compared to some other business types. But there are some important things to take into account first. Especially if you've never been in business for yourself before.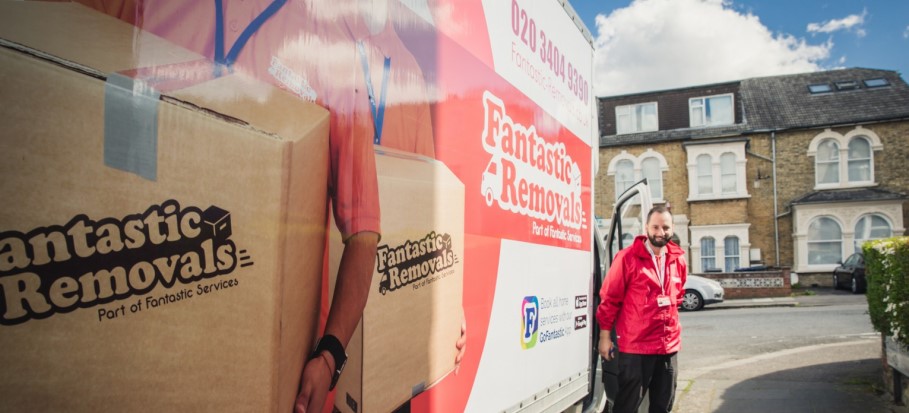 Let's take a look at the basics of how to start a removals business in the UK. Along with a few time-saving methods you might use along the way:
How much does a small moving company make?
This very much depends on how much you charge and how much a removal company costs in the UK can vary dramatically in different parts of the country.
A good place to start is to investigate your local competition. What do they offer? How much do they charge for it?
Simply shooting for offering a lower price point isn't necessarily going to be your way in. Be helpful. Be flexible. Try to offer good value for money rather than simply being cheap.
With that being said, a small moving company can make a decent living in the UK.
How much does it cost to start your own moving company?
On one hand, it might come with lower start-up cost than many other business types. On the other hand,there's no getting around the fact that you do need to make at least some small purchases and investments before you can start moving houses:
1) Your van
Your van is going to be your biggest purchase. It's best if you can afford to buy a reliable second-hand model rather than going into some sort of loan or pay monthly deal.
If you don't know your vehicles, consider taking someone with you who does when you go to buy. There is a surprising number of used car salespeople who will try dirty tricks like "turning back the clock", making it look like a vehicle has done fewer miles than it really has.
Many starter movers buy Luton box vans. These often have tail lifts and are ideal for the domestic house moving market.
Transit vans are another option, especially if you're planning on offering smaller moves or getting into the courier game.
The newer and better-presented your van, the better your company name will look on the side. This is a vital part of your vehicle – turn it into a moving billboard for your business as soon as you can.
Don't overdo it on the information. Be catchy, but at the same time, be clear with your contact details.
2) Moving equipment
Less pricey than a vehicle but still a cost, you will need a small selection of moving equipment:
Protective uniforms or workwear, including tough gloves and safety boots
Possibly a trolley or dolly
Lifting straps for furniture
Blankets and ropes for securing items in transit
Packaging if you plan to offer a packing service
3) Advertising
Moving businesses are pretty difficult for most people to tell apart. You need to get the word out there about what makes you stand out from the competition.
If you're going to be a solo entrepreneur rather than a franchisee, plan to have a website, use social media and to have some costs arising from marketing, no matter how small and local you plan to be with your efforts.
As a franchisee, your franchisor should be handling at least some of this for you – or set you up so that you can handle everything easily yourself.
4) Staff
Being a single "man and van" mover is certainly an option. Yet, you'll have far more opportunities if you have at least one member of optional staff. Be sure to include their wages in your start-up cost calculations.
How to start a removals business in the UK – important considerations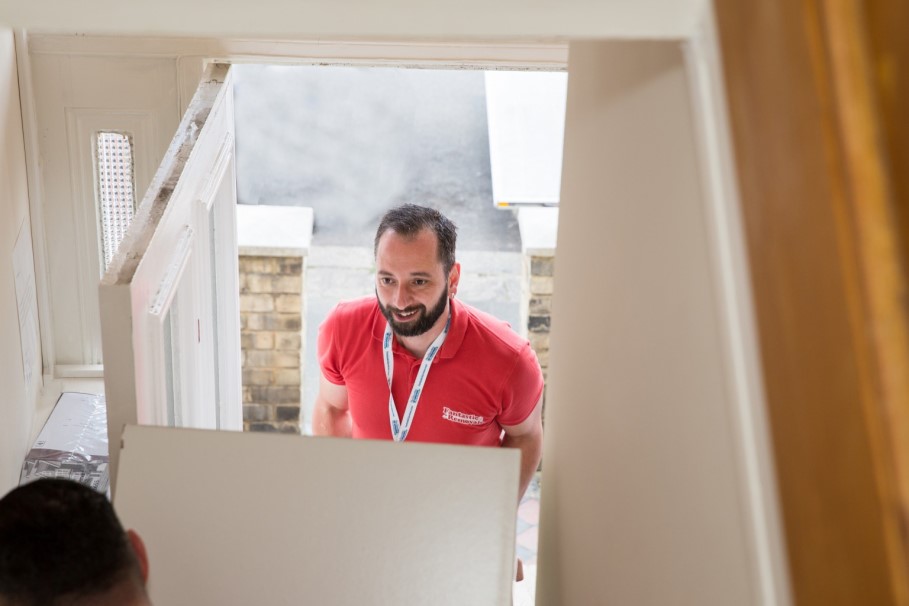 On top of the necessary financial outlays, you're going to need to take care of a few important things as you start your removals business:
1) Assess your skills
To be a house mover, you need to be physically fit and pretty well coordinated.
You also need good people skills. You will be interacting with customers pretty much all day, so you need to be able to make a good impression even in the stressful situations which moving house can throw at you.
A driving license and plenty of driving experience are also pretty much standard requirements. Especially, if you're going to be handling the vehicle yourself.
2) Setting yourself up as self-employed
Informing HMRC that you are now self-employed is an important step. Make sure that you're prepared to keep track of your accounts because you will need to submit your own tax returns every year.
You should also make sure you're covered by insurance, including:
Public liability insurance
Employers insurance (if you plan to have any staff)
Many insurance brokers have a "goods in transit" policy which should suit you
3) Choosing your niche
Who are your clients going to be? Most new removal companies start out by targeting straightforward domestic moves. You can progress to targeting lighter moves, heavier office removals or even providing courier and delivery services.
You can diversify or specialise as you go but to begin with, check out what the competition is up to and see if there's an obvious niche you could go into.
4) Getting certified
You don't strictly need certification to start a removal business in the UK. However, it certainly helps your credibility to have some form of certification to show off to potential clients. Consider registering with:
5) Spreading the word
Marketing your new company is absolutely vital. You should almost certainly look into:
Creating a website (this is a necessity)
Building social media business profiles
Printing flyers and business cards and dropping them through local doors
Posting in local shops and community centres
Getting listed on professional directories
You also need to be ready to protect and manage your online reputation. These days, one bad review can sink you in your early career if you don't handle the feedback you get online successfully.
Again, a good franchise opportunity should remove this problem from your list. Your parent brand should have a good reputation and processes in place to handle this.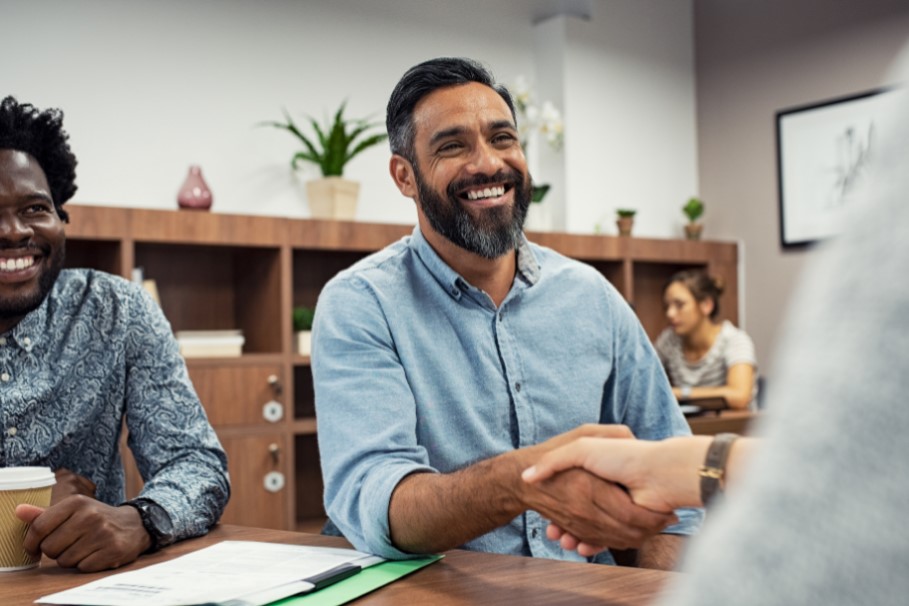 The benefits of buying a removals franchise in the UK
Perhaps the most important decision when opening your new removals business will be whether to buy a moving company franchise or to go into business for yourself. There are several reasons why the franchise is a popular choice:
1) Support and protection
In the modern economy, opening a small business is a potentially risky proposition. As part of a franchise, you have the protection of a much larger business behind you. Not to mention on-call expertise and advice whenever any kind of issue appears.
2) Training
Technically, you don't need any training to open your own moving business in the UK. But if you haven't been in business for yourself before, it's not just the right way to lift boxes and load vehicles you need to know. Business management. Sales. Marketing. There are many things a good franchisor can either do for you or will train you how to do.
The same is true of your team. Having franchisor training available ensures that you can reliably deliver services of an exceptional standard.
3) Growth
It's in the interests of your franchisor to help you thrive and grow. Most franchisors won't put a limit on how much you can expand. In fact, they will help you build your teams, up-sell your services and achieve your potential.
Why a moving company is an ideal franchise business
Quality and trust
As a small removals business in the UK, there are limited numbers of ways to show potential customers that you can be trusted. You can get a certification or two, but most small removals companies operate on a word-of-mouth handshake basis.
Today, people want more than that from their movers. As a removal franchise, you offer your modern audience the peace of mind of using a known brand. That's a big draw for many potential clients.
Customer service and training
One of the big areas that many moving companies struggle in is customer service. Many operate with a simple mobile phone in their pocket, which can make them hard for customers to reach. That's a big problem for customers when the stress of moving house comes into play.
It is worth investigating how a moving company franchise opportunity can help you here. For example, Fantastic Services actually carries out customer support activities on your behalf, ensuring you can concentrate on delivering your services without the need to worry about this.
This post was written by Fantastic Services and posted on their website here. They are an exhibitor on the FranchiseShow247 Cleaning & Domestic Services floor and you can visit their FranchiseShow247 exhibition stand here.