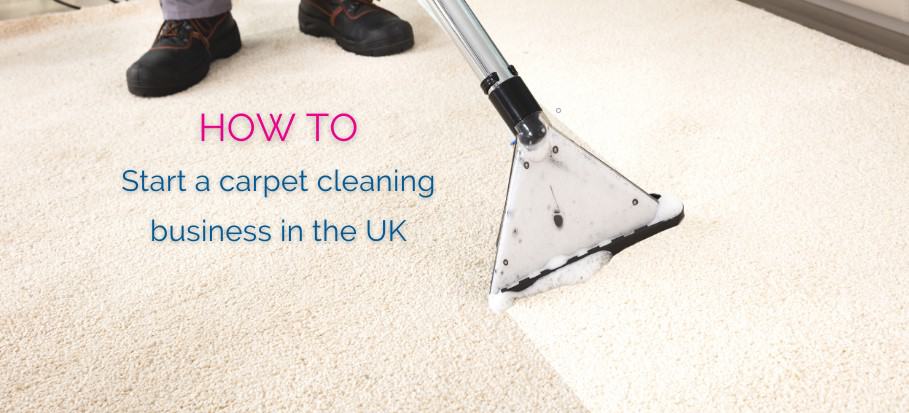 Many people choose to take the plunge and become their own boss. Starting a carpet cleaning business in the UK is a choice which a surprising number of these people make – especially if they have any related experience.
After all, carpets can be found in almost every home, commercial or even industrial property from Land's End to John o' Groats. That's a whole lot of potential customers.
But how much can you make owning a carpet cleaning business? Do you need a license? How difficult is it to get started?
And is all the effort of investing in the equipment, training yourself and finding the customers you need for a steady income worth it? Or might there be a better option?
Is owning a carpet cleaning business profitable?
Starting a carpet cleaning business does require a certain amount of initial investment. You need to buy the equipment, training, transportation and so on.
But after this, a carpet cleaning business is indeed profitable. Only around 5% of your income needs to be spent on the necessary cleaning supplies. Of course, you may still need to spend money on fuel and marketing.
Do you have what it takes to run a million-pound business? Let's find out.Take The Quiz
Yet that's still approaching a 90-95% profit from the work you do. The average carpet cleaner reportedly earns around £60 to £120 per person, per vehicle.
That's a fairly hefty take-home for a job which lets you be your own boss.
How much to start a carpet cleaning business (in terms of money)?
If you're starting your own carpet cleaning business in your own name, you will need to invest in, at minimum, the equipment and training. Some very approximate figures for this might be:
Carpet cleaning machine – somewhere from £1000 (for a second-hand machine) to £3000 or more for a high-quality new one. There are also truck-mounted units which are significantly more expensive. You probably won't want to start with one of those though.
Training – many carpet cleaning product manufacturers provide certified training courses. One of these will set you back somewhere between £100 to £300 per person.
Vehicle – if you don't already have a vehicle, you will almost certainly need to buy one.
You won't need much more besides a home office space and somewhere to park your vehicle. It's worth remembering that you can then claim a fuel allowance and a portion of your telephone, energy and internet bills against your income when it comes time to pay your taxes.
What you need to start a carpet cleaning business
Right, let's get down to specifics. What are you going to actually need to start a carpet cleaning business?
1) Learn how to clean carpets
Okay, we might be starting with the real basics here. But if you don't already have experience in the industry, you need to know how to clean a carpet and do it well.
Because your new business is going to be resting on the quality of service which you can provide. If you can't clean a carpet at least as well as your competitors, your customers are not going to call you back – and you're not going to be able to generate the good reviews you need.
If you're going into business for yourself, a carpet cleaning basics course will usually cost you somewhere from £100 to £300 and should last for one or two days.
Some manufacturers offer courses as essentially product demos for their equipment, which they then encourage you to buy (though you don't have to). This can be a good way to try these products out at the same time.
2) Buy the equipment
Choosing the right carpet cleaning equipment is a job in itself. You'll soon see that there is a huge variety of even the main type of cleaner you'll need available. Making the right choice is often a challenge. Be on the lookout for a machine which is:
A portable wet carpet cleaning machine, preferably a twin vac type
100 psi pump minimum
Fitted with a wand (you might also prefer a basic walk-behind model, but the wand is usually a better choice)
Fitted with a hose of at least 15 metres length
If you're going to offer upholstery cleaning too, you'll need a hand tool
You will also need:
A commercial-grade vacuum cleaner
A sprayer for your chemicals (of the pump up variety)
Carpet brushes (and an upholstery brush if you're intending on offering that)
Some buckets and towels
On top of this, don't forget that you will also need to choose the right carpet cleaning solutions, meaning things like:
Pre-sprays
Acidic rinses
Deodorisers
Stain removers
Other accessories
Prochem offers some of the best in the business. But there are also other reputable manufacturers, including Truvox and Craftex.
Take a matching quiz to find the perfect franchise model for you?Take The Quiz
3) Get a vehicle
If you already have a car with a decent amount of space inside, you might be able to use it as a work vehicle to begin with.
It's not as professional as turning up in a fully branded van. But it might get you by if you can't invest any more at this stage.
Ideally, you will want something that's at least a spacious hatchback to begin with and move onto a van with your own branding on the side as soon as possible.
4) Start finding customers
This is the real trick when you're starting your own carpet cleaning business in the UK. Despite the fact that there is a large waiting audience for your services, there is also quite a bit of competition in many areas.
You can start trying to attract customers in a wide range of ways:
Get a website – no reputable business these days is without one.
Get on social media – set up a business profile on Facebook at minimum and start making friends with local groups and people.
Consider SEO and paid ads – consider investing in good SEO and even paid ads to find customers online.
Create paper advertising – the internet might be the best way to find new customers these days. But that doesn't mean you should overlook leaflet drops – especially if you can manage to include special deals and offers. Don't forget posters or newspaper ads either.
Reach out to property owners and managers – letting agents, landlord groups, tenant associations, property management companies – there are plenty of groups out there who need good carpet cleaners.
Approach local firms – start off with an email or letter and then follow up with an in-person visit to local business owners.
Find local partners – there will be numerous other service providers in the local area – we're talking window cleaners, gutter cleaners, handymen and builders – who offer the kind of services people might book at the same time as carpet cleaning. Reach out to find local partners who might be prepared to recommend you in exchange for you recommending them.
In general, in all areas of service delivery, you really want to aim to go above and beyond with your customers. Repeat customers are the lifeblood of any carpet cleaning company. The more the same people use your services, the more they recommend you to their friends and the more they leave positive reviews of what you offer online.
Do carpet cleaners need a license?
Carpet cleaners in the UK do not need a license. That said, anything you can do to convince your clients that you are a reliable choice is a good thing.
If you choose to become part of a franchise, that won't be a problem. Part of the reason so many new carpet cleaners go down this route is to access the brand name which will make new customers trust them.
If you're starting your own solo business though, it can be a little more challenging to convince prospective clients to trust you. It's worth noting that you can get reputable training and certification from the IICRC (the Institute of Inspection Cleaning and Restoration Certification).
How do you price carpet cleaning services?
Pricing your carpet cleaning services is another challenging aspect of going into the business on your own. Don't forget that there are many elements which will factor into this decision on a case by case basis:
Size of the carpet or number of rooms
Location of the carpets
Carpet condition, including stains and marks
Presence of pets
Presence of students or large shared house
Average carpet cleaning service prices range from £20 or £50 per room depending on size. Ideally, you will want to aim to clean more than a single room in a house in order to make things cost-effective.
The benefits of buying a carpet cleaning franchise in the UK
There are a number of reasons why so many people who start their own carpet cleaning business these days tend to look into carpet cleaning franchise opportunities.
In many ways, investing in a carpet cleaning franchise gives you the best start to your new business. You will have:
1) Initial training
You might have some carpet cleaning experience already. But even if you do, you need to know that every member of your soon-to-be expanding team cleans to the same standard if you want your customers to keep choosing your company.
On top of that, there are many important aspects of business operation and management that new business owners may not be familiar with. A good franchise opportunity will come with full training.
2) A known brand name
One of the biggest challenges of starting your own business is getting your name recognised by local people. As a franchise carpet cleaning business, you don't have that problem.
3) Marketing done on your behalf
Most franchisors should be doing at least some marketing on your behalf. Some – Fantastic Services, for example – actually do all of your marketing. Even going so far as to fill up your daily schedule with clients for you.
Are you a fit for a franchise business? Let's find out.Take The Quiz
Is a franchise business right for me?
Being your own boss
The most common objection to buying a carpet cleaning franchise in the UK is a loss of independence. But this is usually the objection of someone who hasn't been a franchisee before.
As a franchisee, you are still your own boss. You still have your own business and can control the hours you work and how much effort you want to put into growth.
Plus, you have all of the benefits above – benefits that are usually only available to much larger companies.
Processes and control
Another common bit of resistance to the idea of franchising is that people imagine you need to do things the way your franchisor tells you.
Of course, as most business owners will tell you, following the carefully planned processes of a leader in the field is a benefit. Not a disadvantage.
Franchise fees
The only other aspect of buying a franchise that can be off-putting to a newcomer is the franchise fee.
It will be down to you to judge whether all of the advantages of professional training, a known brand name, all of that marketing done on your behalf and access to the industry-leading processes is worth it to you.
This post was written by Fantastic Services and posted on their website here. They are an exhibitor on the FranchiseShow247 Cleaning & Domestic Services floor and you can visit their FranchiseShow247 exhibition stand here.